Prime Minister Viktor Orbán said in February, following a summit of EU leaders, that the Hungarian government supports an immediate ceasefire to avoid more deaths. The Prime Minister stressed that "Hungary belongs to the peace camp". As Századvég's earlier analysis pointed out, various public figures in the international political arena criticised Hungary's commitment to peace in order to put pressure on Hungary. A public opinion poll conducted by Századvég in March explored what Hungarians think about the statements of these pro-war public figures and their possible consequences.
Further prolongation of the war must be prevented
The Government of Hungary has been providing humanitarian support to Ukraine since the beginning of the war conflict, while simultaneously calling for an immediate cessation of hostilities and for the parties concerned to be brought to the negotiating table in order to reach peace as soon as possible. The direction of government policy is in line with the expectations of the population, as the overwhelming majority of Hungarians are in favour of an immediate, compromise end to the Russian-Ukrainian war.
It is due to the consistent pro-peace attitude of the population that Hungarians do not support measures that prevent the war from ending as soon as possible or avoiding the escalation of the conflict.
The vast majority rejects pro-war statements
The government's pro-peace stance has recently been criticized by international public figures with the intention of exerting pressure.
European Commission Vice-President Vera Jourová stated that "Hungary should be held accountable more often, especially for its position on Russia and the war".
According to the survey,
more than half (56 percent) of the respondents disagree with the statement of the politician from Brussels.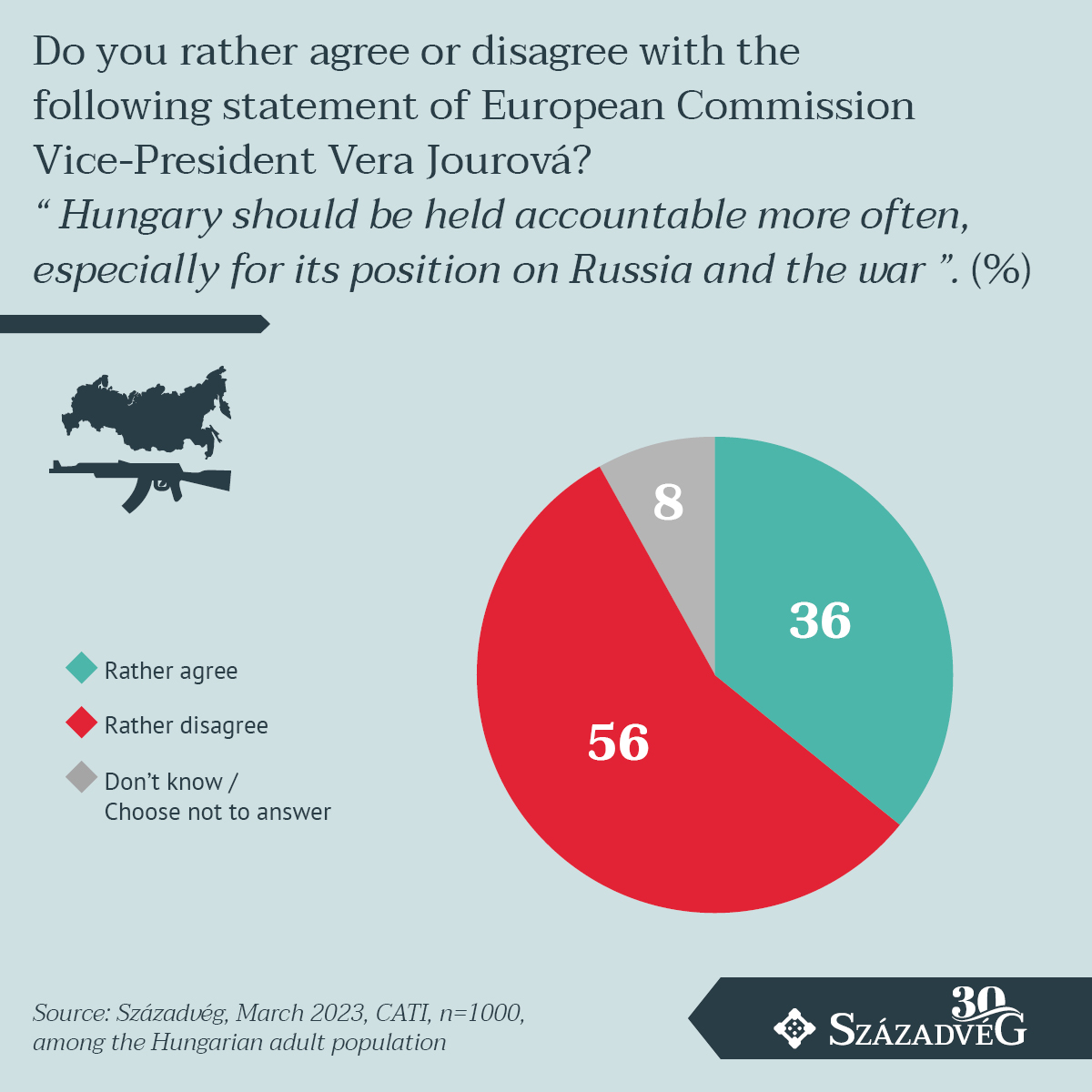 Similarly, U.S. Ambassador to Hungary
David Pressman, in response to Viktor Orbán's calls for an immediate ceasefire, explained that there is neither a "peace camp" nor a "war camp".
Research data reveals that
58 percent of Hungarians disagree with the ambassador's words.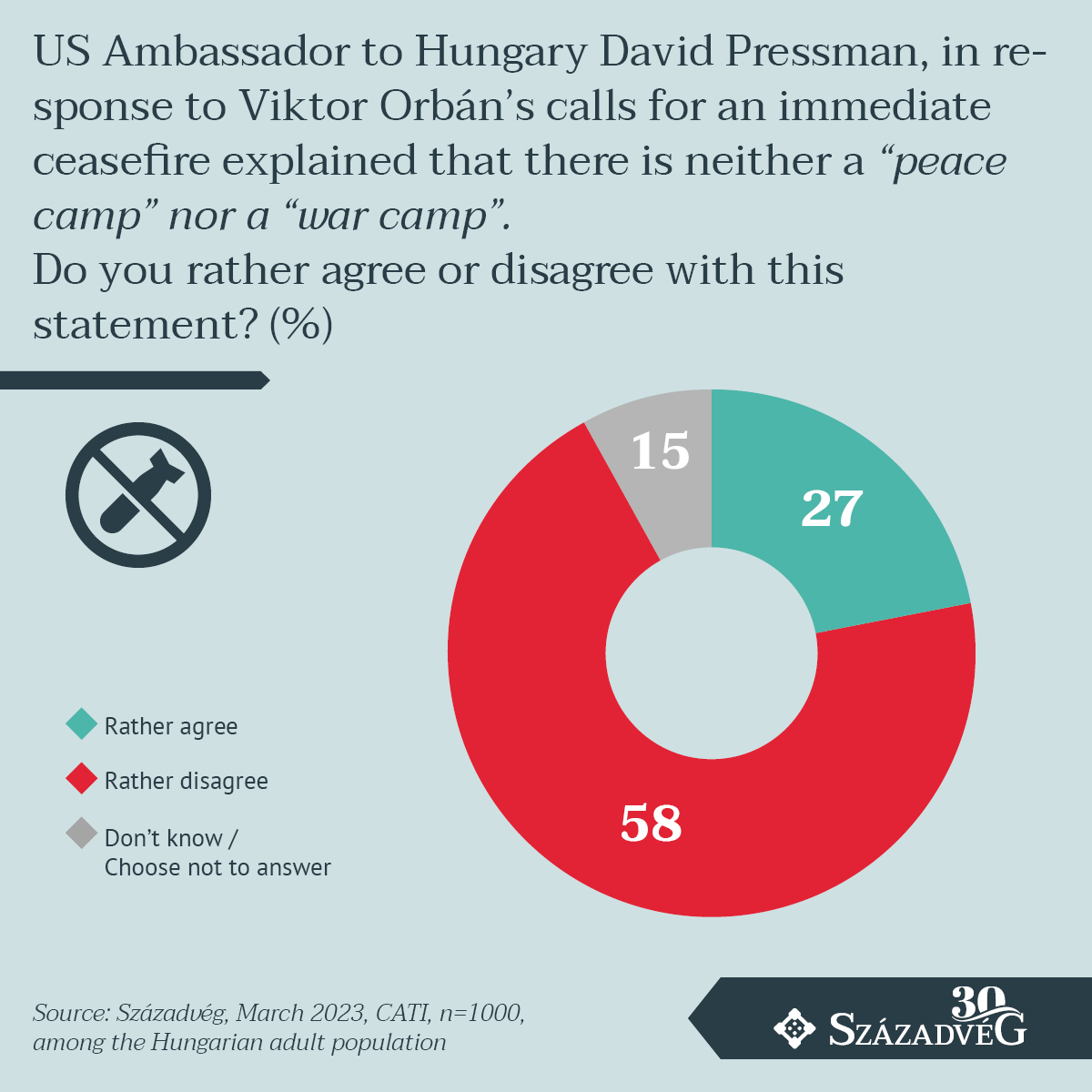 In early March,
European Parliament President Roberta Metsola urged European Union Member States to send more weapons to Ukraine and consider supplying fighter jets.
It can be stated that
7 out of 10 respondents (70 percent) oppose the president's suggestion.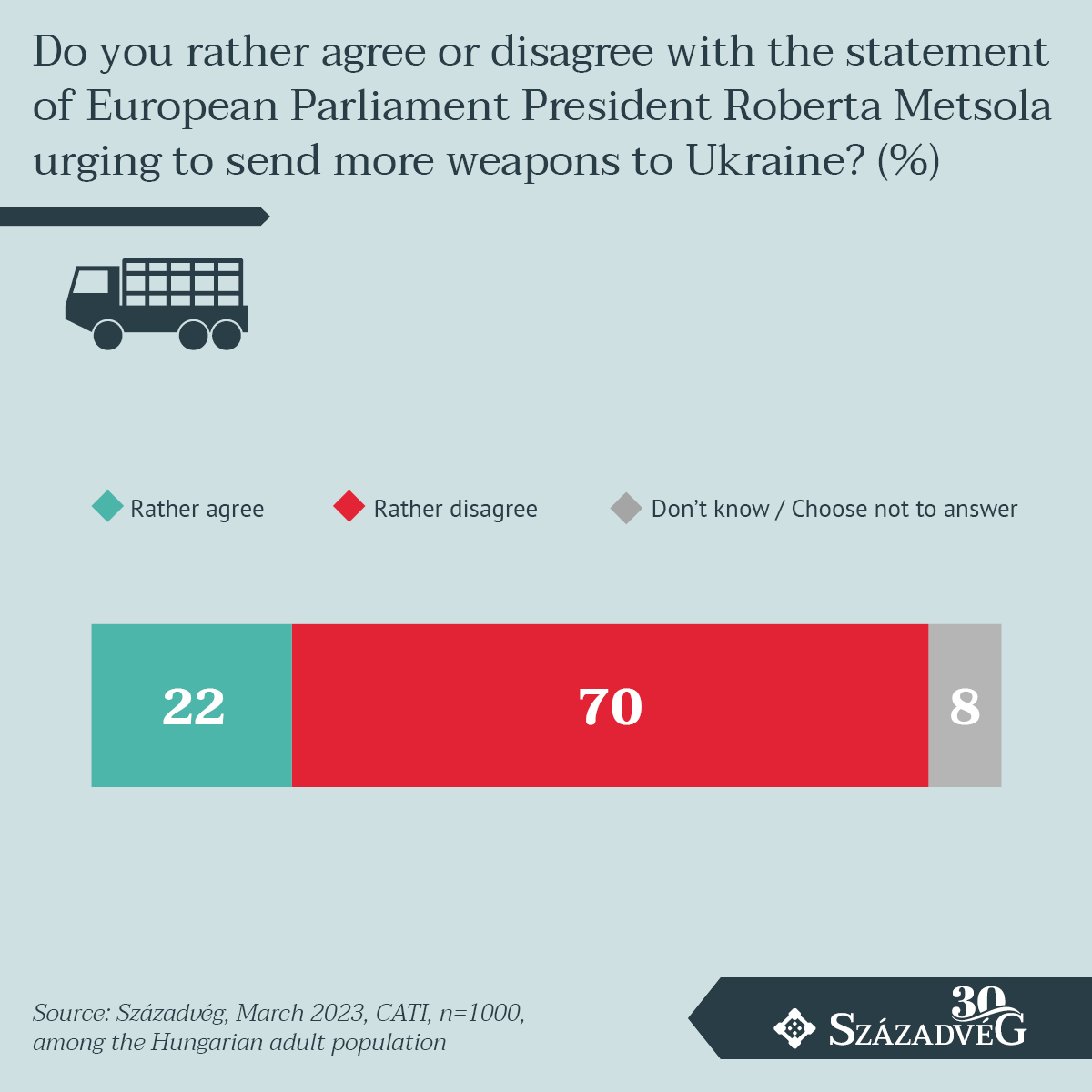 Regarding the three statements mentioned, Századvég examined what consequences Hungarians believe they could have for the further course of the war.
A large majority of respondents (between 54 percent and 74 percent) believed that individual statements could encourage further escalation of the armed conflict
rather than facilitate peace talks. Therefore, it is important to emphasize that the Hungarian people's support for peace is unbroken and
the majority continues to reject suggestions that risk making peace becoming impossible.
Methodology
CATI-method, n=1000, among the Hungarian adult population, data collection: March 2023